Solair® vertical shades are a perfect choice when you are looking to shade an exterior window or enclose a covered deck or patio. With our line of power screens and vertical drop curtains, you can find the right solution for your home. Exterior shades provide privacy, protection from harmful UV rays, energy savings and reduce glare inside your home. There are a variety of fabric choices to choose from and each is engineered differently to perform separate tasks. We recommend that you consult your local Solair dealer to assist in determining the right choice for your needs.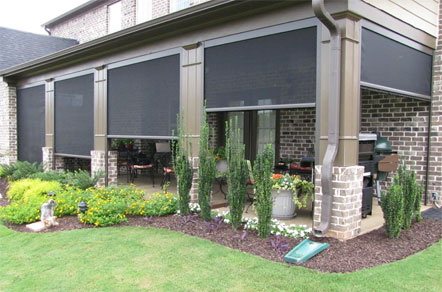 Power Screens
Power screens are ideal when a sleek design is desired and Solair offers two models to fit your home. The Solair power screen model with "SRS" technology incorporates side retention tracks on each edge of the fabric to eliminate gaps and create a perfect barrier from pesky insects. This model offers the best combination of sun protection as well as a complete enclosure system.
The Solair power screen "Cable Guided" model is best used in lighter wind environments and is primarily designed to offer sun protection, privacy screening and light wind protection. This model is ideal if the architectural design of your home doesn't allow for the installation of side tracks and a complete enclosure isn't necessary.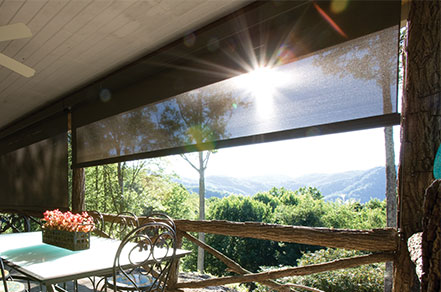 Vertical Drop Curtains
An economical choice, the Solair Vertical Roller Curtain provides both shade and privacy without a sleek housing or track system. The roller curtain is not fully fixed at the bottom, and can move with a gust of wind.
For more stability, you may consider the Solair Vertical Cable Curtain. These curtains utilize side cables that protect the curtain from movement and provide more security in windy conditions.
For more information, visit your local dealer.